It's time for #DomCon again this weekend in #LAX area!
The Press Wire News Blog in WP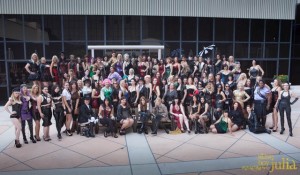 Los Angeles, CA — This weekend, the best of the world's Female Domination community are arriving in LA for DomCon, the largest event in Southern California dedicated to the BDSM and fetish lifestyle.
DomCon LA represents sisterhood among FemDommes, professional and lifestyle alike. Last year, over 1500 people gathered at the event. Dominas are arriving from Australia, Belgium, Britain, Germany and across the United States to share common interests, celebrate diversity and promote awareness.
"Last year, instead of feeling depleted, I left DomCon feeling energized and excited, full of erotic energy," said Mistress Alice of AliceInBondageland.com. This year she'll be celebrating by shooting the anniversary episode of "300 Clothespins and 300 Cane Strokes" for her site.
Guest of Honor, Irene Boss will debut "ProDommes: DomCon Los Angeles" at the event and will be promoting her new dungeon space in Orange County.
This year, there's an additional element for the community…
View original post 123 more words